Brown Jordan is excited to return this year as an exhibitor at Boutique Design New York (BDNY), the premier trade show for the hospitality design industry. BDNY historically has been the must-attend event for the high-end commercial design community. And now, after a year's hiatus for COVID-19 health and safety concerns, the trade show is back at New York City's Javits Center, once again offering a destination for the hospitality design and lifestyle community.
"Coming back to New York City and to the show this year is incredibly important to Brown Jordan, and to all of us involved in BDNY," says Aimee Sheeran, Contract Sales Manager for Brown Jordan. "It's our way of showing our support for the city and for the hospitality industry as it recovers after a very difficult period—and it's an inspiring chance to reconnect with customers, designers, and friends face-to-face after a long time apart."
Sheeran, who joined Brown Jordan in June after 15 years in the hospitality, luxury furnishings, and art and design markets, sees Brown Jordan's presence at BDNY as the perfect way to emphasize the company's commitment to the hospitality industry. "We're investing in this market," she says. "We've restructured, we've brought new energy to our team, and we're taking a fresh look at both marketing and product development innovations that will help us build an exciting future."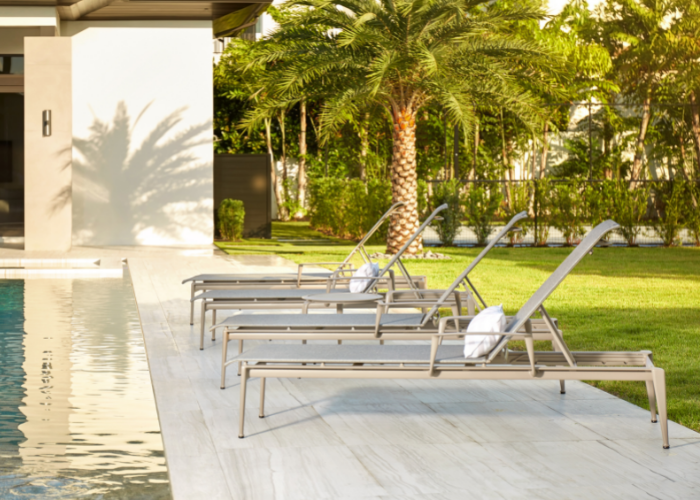 Brown Jordan will share several bestselling collections at BDNY, including Flight, Parkway, Oscar, and the company's newest introduction, Moto. "We're highlighting these collections to show the breadth of our selection," says Sheeran. "We want our commercial and contract customers to see the range of price points and options Brown Jordan offers for many applications and needs, from ultra-durability to high-end designer collaborations."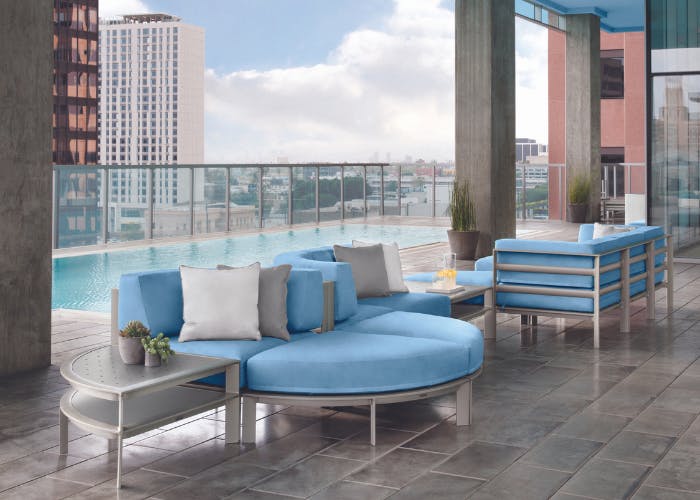 The Parkway collection, for example, provides the versatility of both sling and cushioned styles and an appealing price point. Flight, a sling collection, boasts the convenience of stackability, plus a heavyweight design that makes it a smart choice for windy settings. The award-winning Oscar collection, Brown Jordan's first collaboration with hospitality designer Ann Marie Vering, is a modern mix of rope and metal, with an elevated indoor-outdoor aesthetic.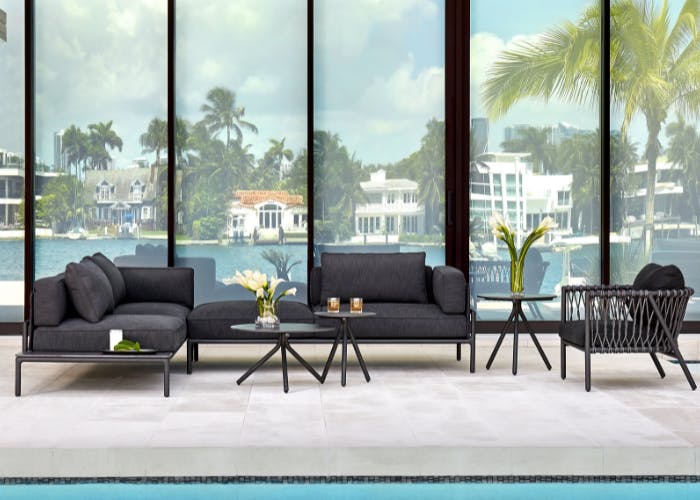 But the star of Brown Jordan's offerings at BDNY is indisputably the new Moto collection, Ann Marie Vering's sleek, sophisticated follow-up to Oscar. The sectional collection stands out from the crowd, thanks to meticulous engineering, customizable indoor/outdoor configurations, and luxurious custom-tailored detailing. "Moto reflects Ann Marie Vering's long career in hospitality design," says Sheeran. "She understands the need for flexibility and durability, and with this collection she paired those key attributes with a design that's at once refined and deeply luxurious. We can't wait to show off Moto—and all Brown Jordan's collections—at BDNY."
Aimee Sheeran and the rest of the Brown Jordan team are excited to welcome the hospitality industry back to the Javits center in November for the return of BDNY. We encourage you to stop by booth 920 during the show to meet the team, explore the latest offerings in person, and to celebrate a brighter future in the industry.