From innovative designs, rich heritage, and impeccable craftsmanship, Brown Jordan has once again masterfully created the blueprint for The Good Life. Our collections continue to be timeless renditions that incorporate both art and unique design. Brown Jordan is not simply a brand of luxury outdoor furniture – it is an idea. A way to live.
Your outdoor space has its own time zone, where moments can be fully realized and savored. Investing in the good life is time spent with family and friends, creating an abundance of shared memories to be passed down. It celebrates a world that brings people together. Designs are conforming and thoughtfully crafted, revitalizing the rich human connection everyone's searching for.
Outdoor Design
Love is in the details
Brown Jordan understands the effect well-thought-out designs can have on an outdoor environment. It stirs a sense of engagement, emitting positive energy into the atmosphere. This allows for relaxation and unhindered candidness to flow throughout your space. Curated settings manifest from the heart and mirror the fondness you have for those you love. The shared enthusiasm between your family and friends is the most rewarding return on that investment.
Although grounded in simplicity, the Brown Jordan brand is often used as a tool of sophistication throughout the world. Its articulate designs represent serene enclaves, offering modernity and refinement to your area.
From elicit fabrics, distinctive straps, or tautly woven materials, each collection is thoughtfully designed with heirloom quality. A durably proven powder coating allows products to perform as beautifully under raging conditions and sunny skies alike. Produce your own experience and curate an environment that rivals any upscale event. The Good life only happens by design.
Luxury Heritage
Decades of Decor
Adorned with a heritage that speaks for itself. Brown Jordan offers the best in class products for refined, luxurious outdoor settings. From the White House, Smithsonian, exclusive homes, and
resorts worldwide, Brown Jordan has provided a sophisticated element to outdoor spaces for more than 70 years.
Customers not only purchase furniture but place unwavering trust in our brand. Known for producing iconic, award-winning designs, Brown Jordan has maintained the gold standard in outdoor furnishings since its release. Far more than furniture manufacturers, Brown Jordan instinctively design to accommodate shared adventures and memories that gracefully lends itself to the next generation. We strive to maintain the founders' principles of superlative design fused with premier quality for a wide range of styles and product categories.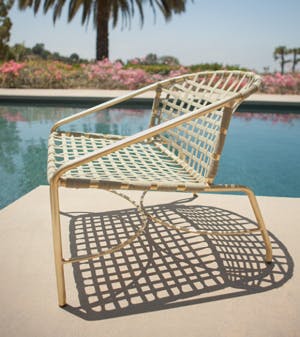 The Finest Craftsmanship
Expert Artistry
With furnishing crafted with a jewel-like precision, Brown Jordan stands as today's finest maker of meticulously executed outdoor furniture. Adhering to the highest standard of outdoor furnishings, and close attention to details help promote a level of intimacy and familiarity with our products.
Brown Jordan unapologetically dedicates its service to mold communities for those who put their legacy first. Each design is artfully crafted and selflessly participates in helping clients maintain an existence to be marveled. Luxury is never found in the cost, only in the way it makes you feel. Brown Jordan urges you to design your own luxurious existence… Live your best life on purpose and in style!
This fall, Brown Jordan begins a new chapter - introducing a world that is artfully designed, curated, and bespoke. This includes brand new collections, product features, and unprecedented design talent. You never know which moments will produce lifelong memories, Brown Jordan encourages you to invest in them all…. Invest in The Good Life