2019 was an exciting year for Brown Jordan. We launched four new collections and were thrilled to see them garner top industry honors. We welcomed one of the top women in design into the Brown Jordan family and are looking forward to a long and storied future with her. And—speaking of the future—we had the great pleasure of working with some of tomorrow's new design talent in an exciting mentorship program. 
Here's a closer look at some 2019 highlights from Brown Jordan—and a sneak peek at a few of the big things we have coming up in 2020, and beyond.
New Collections and Timeless Additions
As always, we let Brown Jordan's heritage of design leadership shape our 2019 introductions. The result: Four brand new collections and new additions our existing offerings.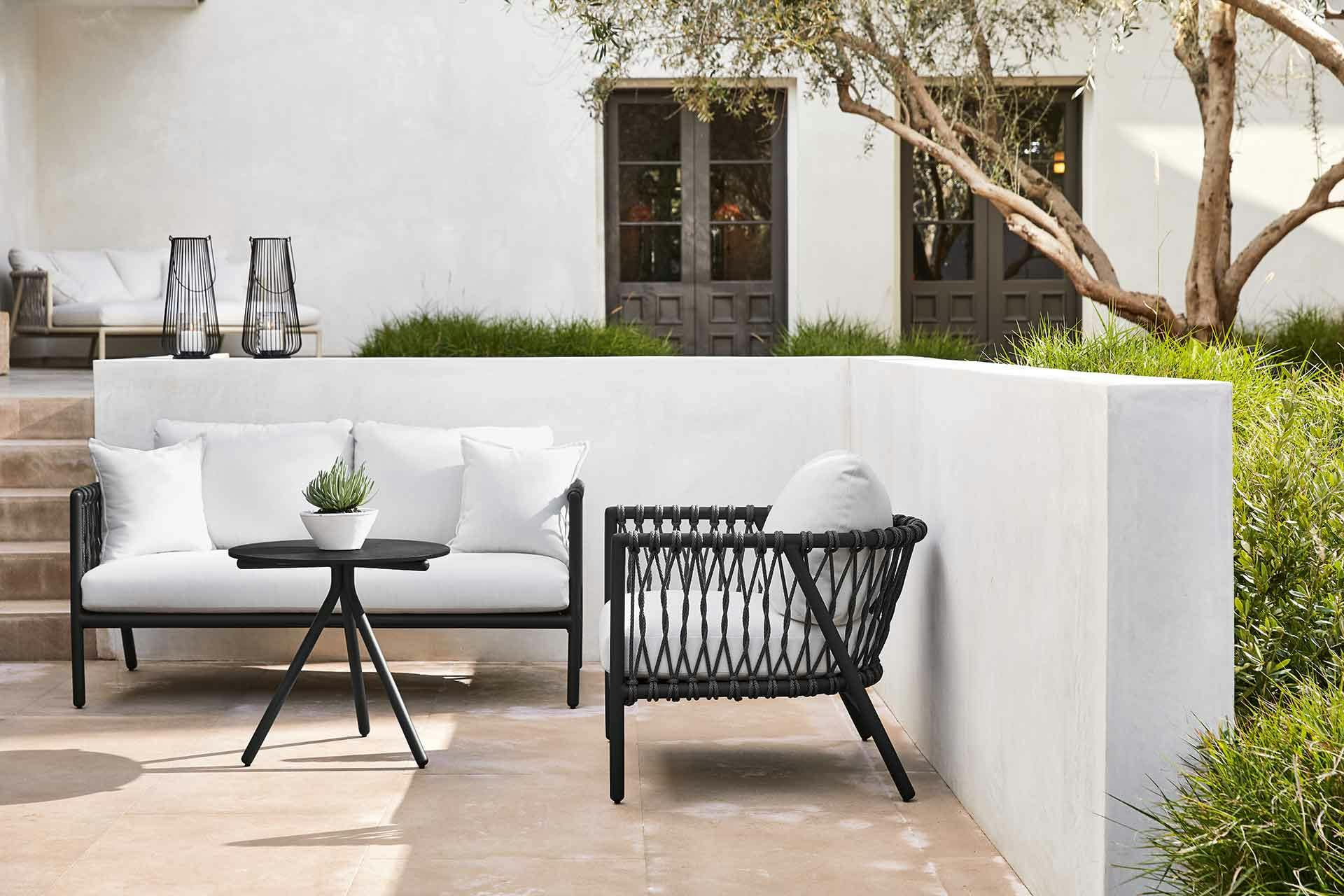 Oscar Collection
Ground-breaking designer Ann Marie Vering joined the ranks of Brown Jordan's storied talent with the Oscar Collection. Characterized by a sophisticated indoor-outdoor appeal, Oscar successfully marries Vering's fresh, contemporary perspective with an intriguing materiality inspired in part by the rope details in the original Walter Lamb collection. An exclusive offering to the architecture and design community, Oscar took home three prestigious International Casual Furniture Association Design Excellence Awards this year: The Lilly Award in Outdoor Accents for the Oscar Lounge Chair, the Design Excellence Award in Chaise Lounges for the Oscar Chaise, and the Design Excellence Award in Lounge Seating with Cushion for the Oscar Lounge Chair.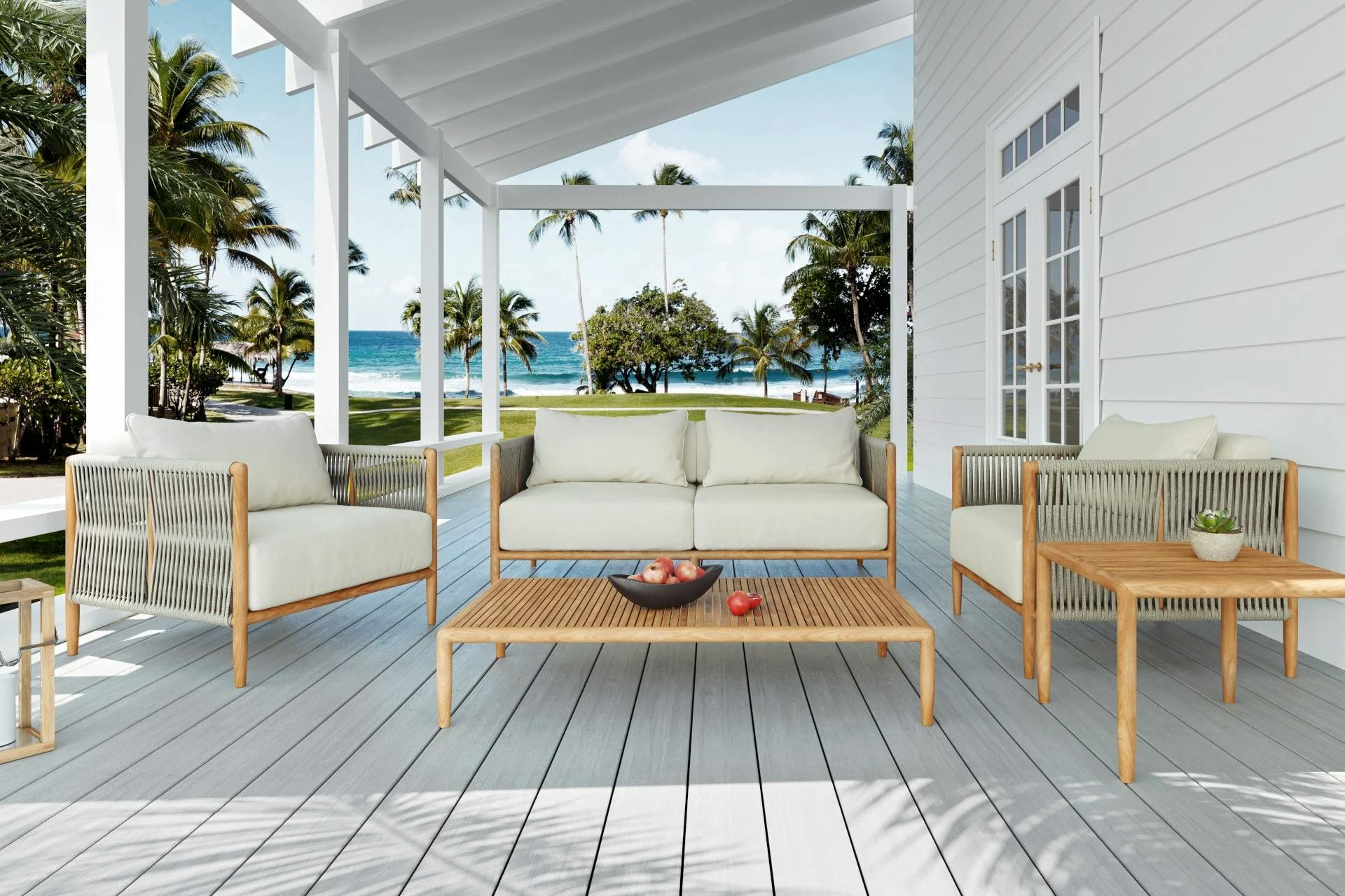 Maldives Collection
In perfect keeping with its island paradise namesake, the Maldives Collection pairs an elegant European sensibility with a fashion-forward aesthetic. Designed for comfort, leisure, and visual impact, the pieces feature a contemporary, neutral palette and a rich materiality, mixing teak frame with delicate roping and plush cushions. In characteristic attention to detail, Brown Jordan organically accelerated the aging process of the teak—a material that's on the upswing in the design world—creating a unique and rich finish. The result is a collection with a strong connection to Brown Jordan's design heritage and with its own place at the table of trend-setting luxury furniture design.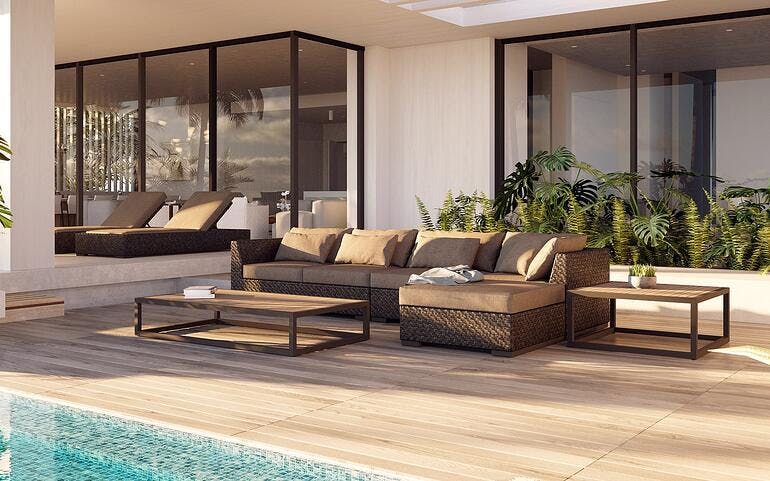 4M Collection
"My design mantra has always been to be authentic, relevant, and memorable to create an emotional connection with others," says legendary Brown Jordan designer Richard Frinier. The new 4M Collection, designed in collaboration with Frinier, brings this philosophy to life. Bold linearity gives the high-end woven collection a distinctly modern feel, and yet it also boasts a relaxed, coastal appeal that complements a wide range of architectural styles. These pieces are perfect for gathering and enjoying time with family and friends against nature's incomparable backdrop. And, always intent on anticipating our customers' needs, Brown Jordan has made these high-end looks available at attractive price points, exclusively at Brown Jordan stores, showrooms and authorized dealers.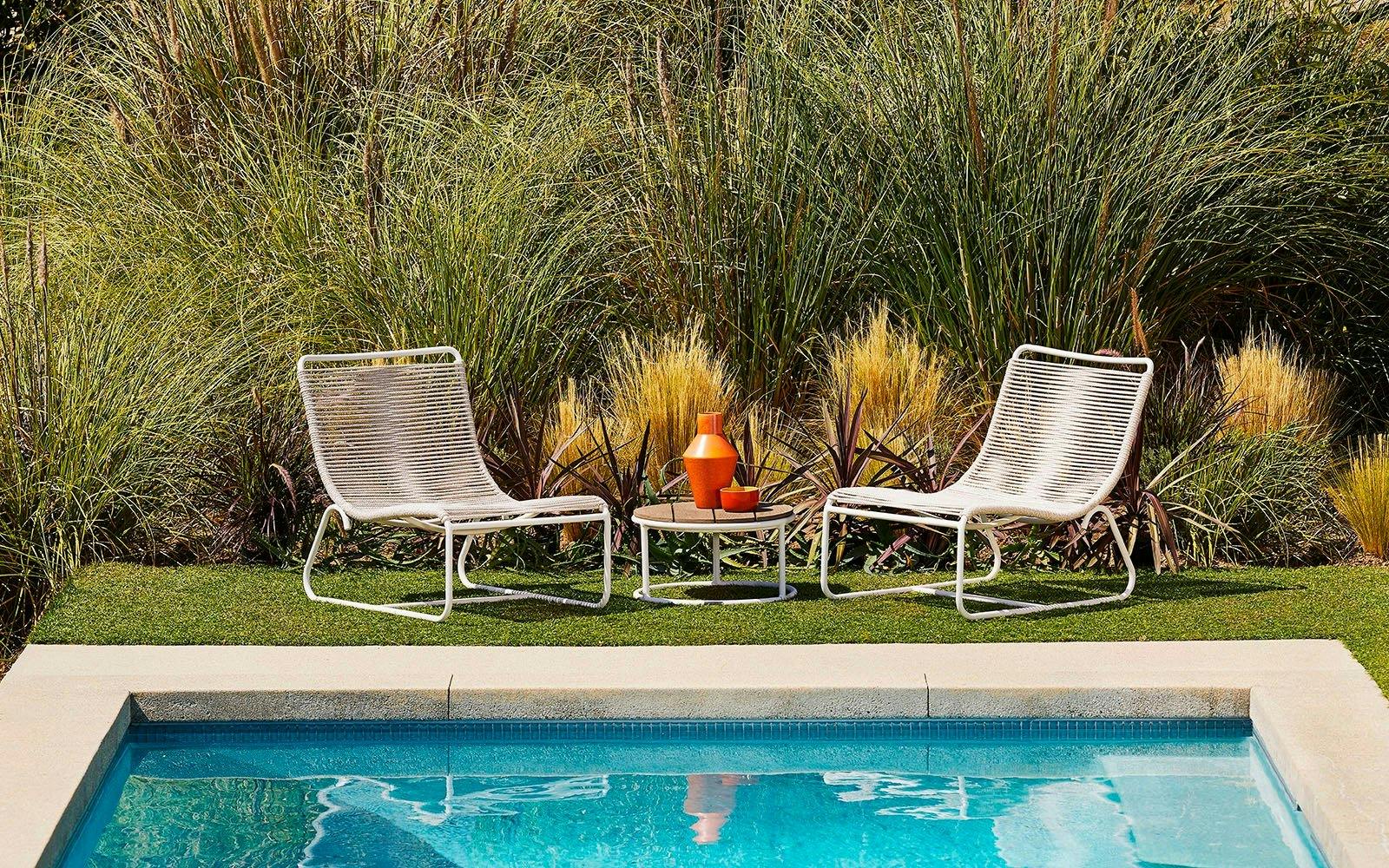 Walter Lamb Aluminum Collection
Finally, we were proud to honor Brown Jordan's design legacy with the Walter Lamb Aluminum Collection — the first flourish in our year-long salute to the company's 75th anniversary in 2020. This exciting collection pays homage to our brand's beginnings, using the original design of the Walter Lamb Collection with elevated new materials: durable and beautiful aluminum in place of the original bronze and brass, and long-lasting acrylic rope detailing. Proving the timeless and timely appeal of these designs, the collection has already garnered industry and media praise. The Walter Lamb Aluminum Collection was a High Point Trend Watch Winner at the October Market. And, the Walter Lamb Aluminum Rocking Chair was a finalist for Interior Design magazine's Best of the Year Awards in Outdoor Seating.
Exciting Additions
Along with our four new collections, we also turned our attention to our existing collections, creating new pieces for the Ciclo, Parkway Modular, and Still collections. We introduced a new Lounge Rocker to the Ciclo Cushion Collection and an Ottoman to the Parabolic Sling Ciclo Collection. Now even more flexible and versatile than before, the Parkway Modular Collection gained a sofa and five new sectional pieces. And the Still Collection now features accessory trays for the bar cart introduced at the end of 2018. Speaking of Still, we were thrilled to see the collection win big at the ICFA Awards in September, taking home the Lillian B. Winchester "Best of Show" Award for the Still Mobile Console Table and Serving Cart, the Lilly Award in Outdoor Accents for the Still Mobile Console Table and Serving Cart, and the Design Excellence Award in Complementary Casual Product for the Still Serving Cart.
Leadership for the Future
Giving back to the design community has always been a key tenet of Brown Jordan's philosophy, and we believe that one way to do that is by helping to nurture the designers of tomorrow. 
In 2019, Brown Jordan partnered with the Savannah College of Art & Design (SCAD) to mentor 16 students, working closely to help them create their own outdoor furniture collections. Brown Jordan Chief Brand Curator Stephen Elton supported the students throughout their semester-long project, guiding them through the research, design, and construction phases and helping to judge their final pieces. Finally, the winning designs were honored at the International Contemporary Furniture Fair (ICFF) and displayed in SCAD's booth. Elton was joined by Brown Jordan designer Richard Frinier, Margaret Russell—the former editor of Elle Décor and Architectural Digest—SCAD's Honorary Dean of the School of Build Arts, and Dr. Geoffrey S. Taylor, Dean of the School of Building Arts, in critiquing the pieces.
Looking Forward to 2020
The new year brings with it the 75th anniversary of Brown Jordan's founding, and we'll mark the occasion in true Brown Jordan style. In keeping with our company's character, we'll also honor this meaningful milestone by continuing and renewing Brown Jordan's commitment to enduring quality, innovative design, and to the precise attention to detail for which we're known. You can look forward to new designer collections, to our continued partnership with SCAD, and to many more exciting moments throughout our year-long 75th anniversary celebration.

Here's to a bright new year, and new decade, of luxury outdoor furniture and leadership.