Whether you wait for the annual return of warm weather or enjoy a comfortable climate year-round, you know the pleasures of dining al fresco. From casual cookouts to formal dinners under the stars, there's something that's almost magical about eating in the open air, surrounded by the sights and sounds of nature. The importance of a comfortable and beautiful outdoor dining area has become even more apparent in the last few years, as we've relied on outdoor entertaining areas even more than usual. So why not lavish some attention on this appealing part of your home, elevating it from an afterthought to an elegant, eye-catching destination? Here's how you can do just that, with help from Brown Jordan's luxury outdoor designs.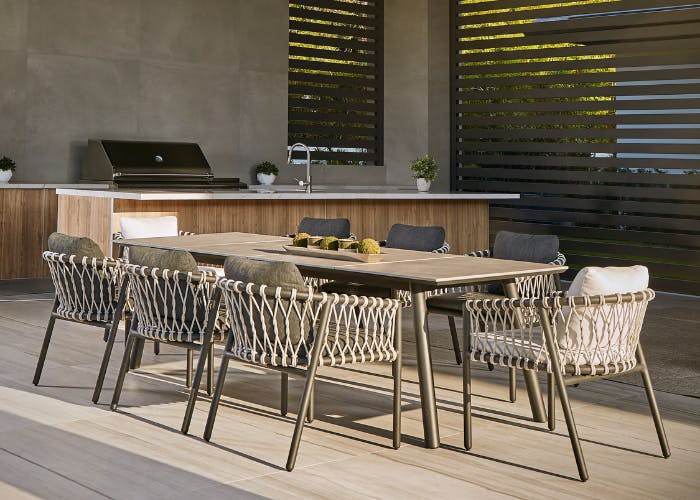 Make it Dynamic
Take a tip from top designers and incorporate a range of materials in your outdoor dining space. Mixing media—choosing a metal table with a teak or glass top from Brown Jordan's Walter Lamb collection, for example, or chairs that combine inviting aluminum frames with bold rope backs, as H Arm Chairs do—adds intriguing texture and a subtle modern edge. There are no set rules about which materials to combine, or how many. Take your inspiration from nature, where rock and wood, moss and leaf create an endlessly intriguing tableau. Choose your materials based on your needs, both functional and aesthetic. Have an active family, go for the easy clean-up of a Dekton top on an Oscar dining table. With a little attention to your needs and the details of your space, your dining space will be the perfect mix.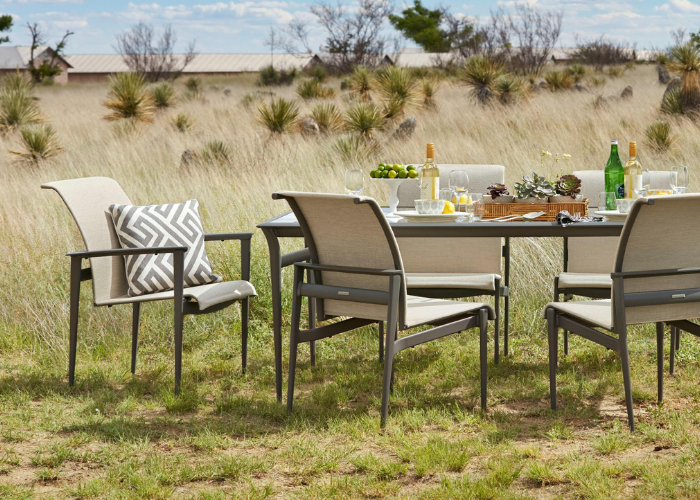 Know Your Audience
Creating the perfect outdoor dining area for your home begins with understanding your lifestyle and preferences. How will you use the space—for the occasional family meal, frequent casual get-togethers, or large parties? Will you spend time there during the day, in the evening, or both? Do you plan to dine outside year-round, and will you need to provide extra warmth in colder months? Use your answers to determine the best placement for the dining area. If you and the kids will be running in and out from the kitchen for weeknight dinners, the dining area should be within easy access of indoor spaces. Or a more sheltered and removed spot might improve the ambiance of more formal occasions. Next, select your table size (or sizes) accordingly—from a 36-inch square or 48-inch round for intimate meals, all the way up to a 44-inch x 98-inch dining table for larger groups, like the elegant options in the Venetian collection. Finally, accessories, like the award-winning Still Console Table + Serving Cart, Sun Cloud 9' Umbrella or an extra supply of stackable Flight Sling chairs, can add another element of style and functional storage or surface space.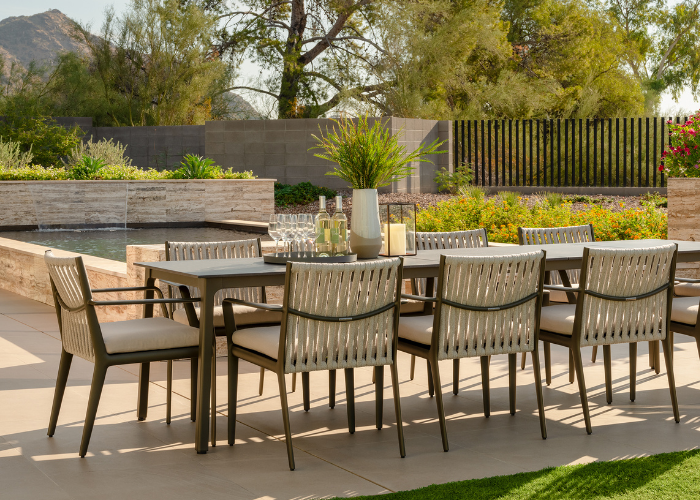 Design For Your Space
Creating an outdoor dining area that feels like an extension of the comfort and style of your home depends on some careful (but easy) planning. If your furniture choices and layout don't physically fit well on your deck, porch, or patio, the dining area won't be comfortable: Your family and friends will be cramped; circulation will be awkward; and you won't want to spend much time there. If you're outfitting a smaller outdoor area, choose tables with narrower dimensions and a more streamlined design to keep the physical and visual clutter to a minimum. If you can't fit one large table easily—with plenty of room to walk around the table and for diners to pull their chairs back—consider creative solutions. You could consider a collection of smaller 36-inch square tables, a grouping of bar stools at an outdoor kitchen counter, or a couple of chat tables for casual hors d'oeuvres.
The secret to creating the "perfect" outdoor dining area is to make it ultra inviting, a relaxing spot where your family and friends will love to linger. Spending just a little bit of time to plan out the space for easy flow and convenient access to entertaining amenities, and choosing furnishings and accessories suited to the people who will enjoy the space—and to your own personal style—is all you need to create your ideal dining destination.