This fall, Brown Jordan expanded the innovative "H" collection, the company's first collaboration with designer Toan Nguyen, adding sectional pieces and occasional tables to the original product offering. Named for the first letter of the word "hoy"—"today," in Spanish—the H collection has turned heads since its introduction, thanks to its clean, sculptural lines and bold materiality.
With its combination of rope and aluminum, H plays with a signature Brown Jordan theme also seen in the Oscar collection. By scaling up the rope to a hefty 3-inch circumference, Nguyen took H in a distinctly contemporary direction, for a look that feels fresh and new, and yet also like a natural extension of Brown Jordan's design portfolio. "Our collaboration with Toan Nguyen has been highly successful," says Stephen Elton, Brown Jordan's chief brand curator. "Extending the H collection to offer our customers more design flexibility is exactly the kind of investment we want to make in our relationship with this talented designer."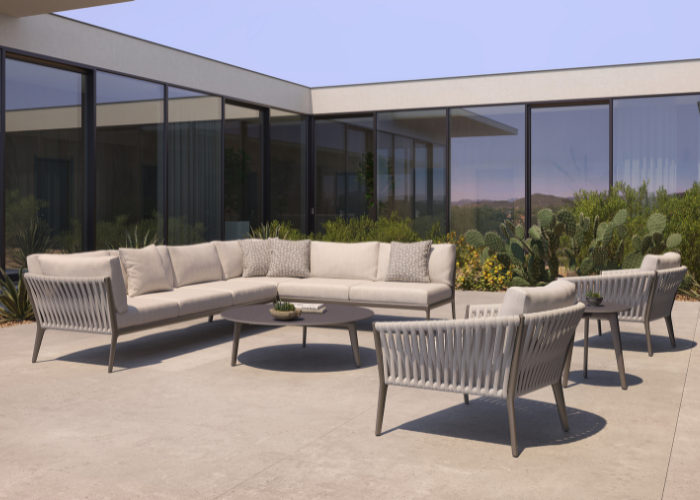 Born in France and based in Milan, Toan Nguyen has brought his skills as an industrial designer to many flagship design brands throughout his career, and his collaboration with Brown Jordan continues a long pattern of success. The award-winning designer added another honor to his resume with the H collection, which recently racked up the awards at the International Casual Furniture Association's annual awards gala. The H arm chair earned both the 2021 Lillian B. Winchester "Best of Show" award and the Lily award at the event. "I see the ICFA award as a reward for working together with the entire Brown Jordan team. They believed in our collaboration from the start and dared to trust me to help write a new chapter in Brown Jordan's history," says Nguyen.
Now, Brown Jordan has added eleven new pieces to the debut collection, which included a loveseat, sofa, lounge chair, armchair, a large coffee table, and 26" side table. The new introductions include six sectional pieces and five side tables, all available in a curation of frame finishes, fabrics, and tabletop options. "While the extension of the collection appears to be a new development for H, it was conceived at the very origin of the project," says Nguyen. "From the first sketches, I set myself the goal of a collection that settles in over time, thanks to a very intentional design that's characterized by great attention to detail and manufacturing quality— and also by the versatility of its possible compositions, both within a space and with other finishes."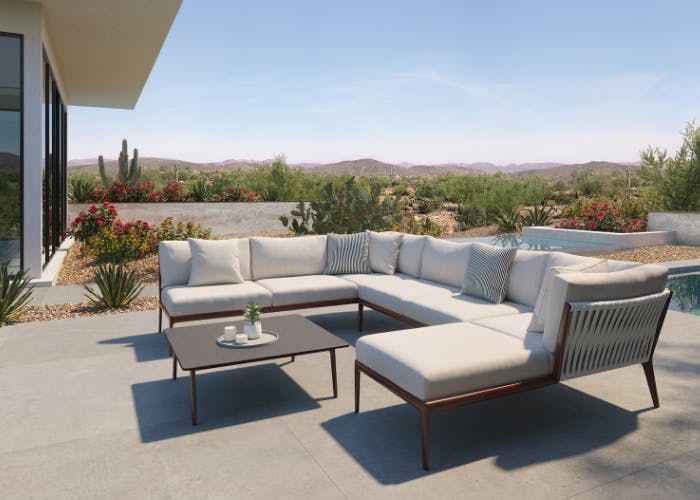 The newly expanded H group is well suited to both indoor and outdoor settings and mixes well with many other Brown Jordan designs. Flexibility is always at the forefront of Brown Jordan's designs, and Nguyen's careful attention to three-dimensionality means that H looks great from every angle. "That provides real versatility for designers, because you can float a sofa or a chair with confidence," says Elton. "This is exactly why we're so happy to work with Toan Nguyen to create contemporary pieces with Brown Jordan's signature flexibility, versatility, and cutting-edge style."
The H collection can be seen at the brands seven flagship locations: Boston, Chicago, Costa Mesa, Dallas, Miami, San Francisco, and Scottsdale, at exclusive dealer locations across the country, and online at brownjordan.com.