Customize the Tone and Style of any Exterior

Brown Jordan Fire solutions add a warm and elegant feel to any modern or traditional outdoor area.
You can easily customize an inviting focal point by choosing which natural, graphite, bone or rust finish, best complements the setting.
Or, you can select from our functional Fire Solutions which serve a dual purpose by providing both table space and warmth.
Fuel options include natural gas, liquid propane, or Bioethanol. The eco-friendly ethanol fuel source is ideal for use in both indoor and outdoor environments.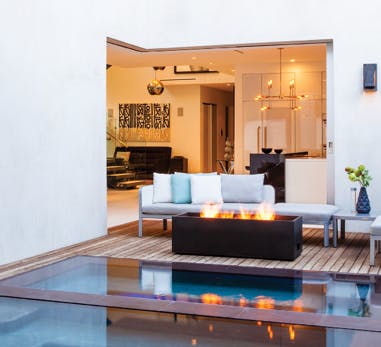 The Perfect Pair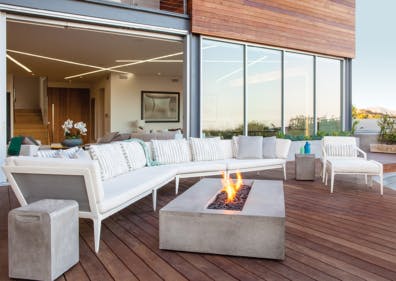 Pairing a fire element with a Brown Jordan collection is the perfect way to optimize any size space for year-round use.
Take for instance, The Still Collection.
While the collection by itself is gorgeous, you can create an even more elegant outdoor setting by adding a Brown Jordan fire pit or table.
The combination options are almost limitless, allowing you to mix and match Brown Jordan Fire elements with our luxury furniture collections to achieve your desired design outcome.
Illuminating the Landscape
Designing an attractive exterior is essential to creating an entertaining outdoor environment.
Top tier hotels and restaurants such as the Marriot, Four Seasons, Hilton, and MGM Resorts and restaurants, have incorporated Brown Jordan Fires to provide their guests with a reason to hang out and stay for awhile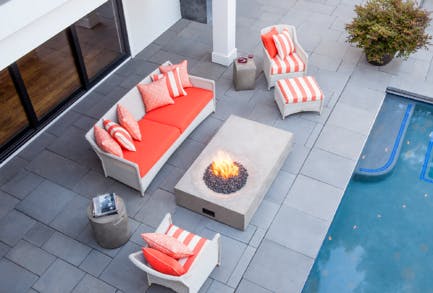 Upcoming Brown Jordan Store Events
I wanted to let you know about our upcoming Brown Jordan store event in Miami, and if you are in the area, I hope you'll stop by. The date and location is included below.
Dec. 8th – 9th
Steve Elton Design Event & Sale
Miami Design District
3625 NE 2nd Ave.
Miami, FL 33137
Please email me directly, or post a comment about what's new in your design world; what you'd like to see covered in the blog; and as always, I'd love to see any of your installations featuring Brown Jordan furniture.