Where a sophisticated hand-woven weave and textural matte fabrics converge is exactly where you'll find 20TWENTY, a new collection designed by long-time collaborator and award-winning designer Richard Frinier. Leading the way in outdoor luxury, 20TWENTY conveys a unique view of creativity, relaxation and balance for a new decade with 20/20 vision.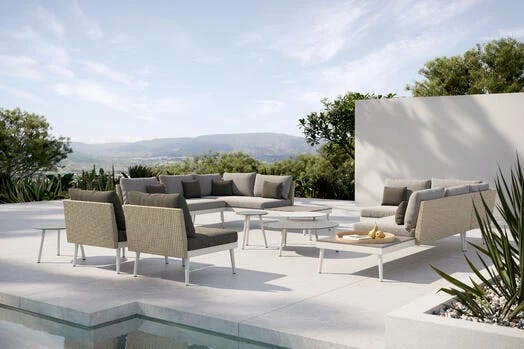 The 20TWENTY Collection features understated soft angles in the lounge seating surfaces and cylindrical tapered legs that come together to create a welcoming and open style.
Centered around the soft and organic hues found in the great outdoors, 20TWENTY provides a sense of positivity and wellness  derived from a balanced color palette-inspired nature.
The 20TWENTY collection is available in two distinct colorways highlighting natural nude hues and rich navy shades. The collection was thoughtfully enhanced with hand-woven synthetic resinweave available in Blond, a light and playful sawgrass, and Blu, a rich cobalt highlighting the Pantone color of the year. 20TWENTY also introduces two new finish options to the Brown Jordan lineup, Shade and Sapphire. Tying the whole design together are mixed materials in Driftwood finished teak end tables and accent tables available in a new ceramic table top offering in a soft natural color, Luna, or a rich earthly shade, Eclipse. 
Designed to be both relevant and memorable, 20TWENTY creates the perfect outdoor space for memorial gatherings between families and friends. Lounge components feature optional integrated end tables and can be smartly configured for larger or smaller spaces. Thoughtfully designed sectionals and sofas can be easily mixed and matched with ottomans, ottoman tables, and bunching tables in three different sizes and heights. Modular in nature, 20TWENTY sectional units may float independently of one another or be joined together with a clip-on connector for ease in planning and enjoying more conversational gatherings for entertaining.
Always designing with our core values of design, craft and heritage in mind, the 20TWENTY collections resembles both what Brown Jordan is today, as well as where its been."75 years ago, we were the very first company to create innovative, modern furniture for full-time outdoor use,"says Gene J. Moriarty, President and CEO of Brown Jordan Inc. "Today, we are still ideating timeless design that continues to define and transform the industry."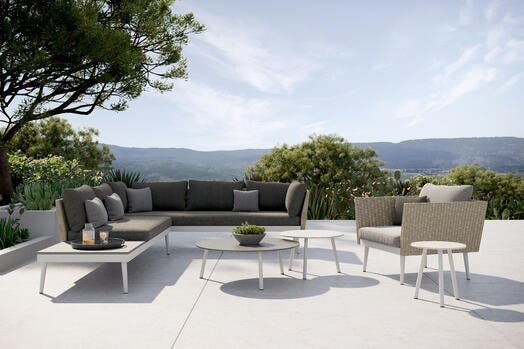 With an air of peace and mindfulness, the 20TWENTY Collection was designed to establish an atmosphere of healing  for all to reflect and enjoy. Providing the best in hand-woven weaves and timeless fabrics and finishes, 20TWENTY proves to be a collection relevant both today and for years to come.