In this post, I'd like to share the story of Brown Jordan's Kantan collection – a design that has truly stood the test of time. Best known for its innovative architecture, Kantan received its first ever design award at Chicago Market in1956. It won the same award 56 years later when Kantan Brass, featuring innovative Sumbrella Suncloth lace, was released in 2012. Over the years, Kantan has grown into three collections totaling 26 pieces. We've introduced new finishes, new fabrics, and additional pieces – all while maintaining the mid-century modern look and feel of the original collection. Kantan has even been featured on AMC's hit TV show, Mad Men.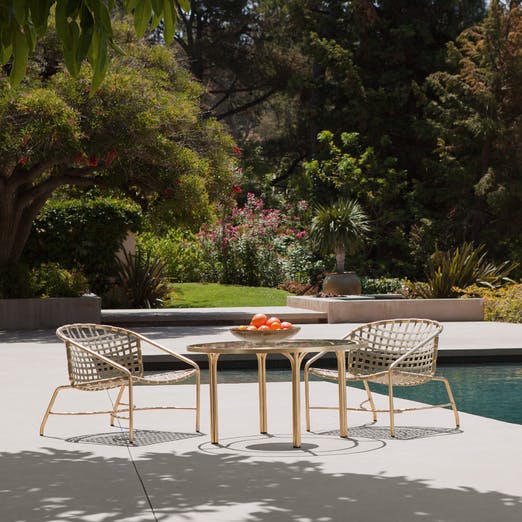 Brown Jordan Launches into Mid-Century Modern Design  

Brown Jordan collaborated with outdoor living designer, Tadao Inouye to produce the first Kantan collection in1956. The Japanese translation for Kantan is "simple" – this spoke to their common goal of creating outdoor furniture trends that combined simplicity with immutable art form. Kantan has an expressive, sculptural form that remains fresh and relevant. Its design embodies a more elegant, simpler time, which was personified on the cover of Life Magazine featuring John and Jackie Kennedy using Kantan in Hyannis Port.
Kantan Today

In commemoration of Brown Jordan's 70th anniversary, friend, and legendary designer, Richard Frinier and I collaborated to reintroduce Kantan. In this new 10-piece outdoor patio furniture collection, Inouye's original design  was reinvented with a brass frame that ages organically over time, evolving into a natural patina with a golden textured color. The Kantan Brass collection's proprietary Sunbrella Suncloth lace exude both comfort and style as well as a fabric that can endure harsh environmental conditions. In my opinion, Kantan best exemplifies Brown Jordan's extraordinary legacy of material innovation and design excellence. 
https://www.youtube.com/watch?v=XHLj1d8bnZs
Kantan is also available in the aluminum frame with the options of either Suncloth lace or Vinyl lace seating surfaces. All three Kantan collections feature 12 exclusive Brown Jordan color options. TS
Upcoming Brown Jordan Store Events

I wanted to let you know that I'll be hosting four upcoming Brown Jordan store events for designers and their clients, and if you are near one of our locations, I would love for you to stop by. Included are the dates and locations below. Please feel free to email me directly if you'd like additional information on one of our events:
Oct. 20 - Oct. 21 – L.A. Store
8521 Melrose Ave.
West Hollywood, CA 90069
Oct. 27 - Oct. 28 – Scottsdale AZ Store
15345 N. Scottsdale Road
Suite K190-190
Scottsdale, AZ 85254
Nov. 17 - Nov. 18 – Costa Mesa Store
3323 Hyland Avenue
Costa Mesa, CA 92626
Dec. 08 - Dec. 09 – Miami Store
Miami Design District
3625 NE 2nd Ave.
Miami, FL 33137
Please email me directly, or post a comment about what's new in your design world; what you'd like to see covered in the blog; and as always, I'd love to see any of your installations featuring Brown Jordan furniture.